Stylish Tweed Argyll Kilt Jacket comes with a three or five-button vest which is purely a custom-made Jacket. All the special requests of users are honored in making this amazing masterpiece.
Premium quality 15 oz tweed barathea is used in making this jacket. In making this stylish Argyle Jacket, excellent quality hardware is used. The pure traditional way of stitching and handling is followed. Our skillful and highly trained workers spend day and night making these amazing quality Prince Argyle Tweed Kilt Jackets.
Rust-Free hardware is used on the Jacket – the material of the hardware solely depends on the choice of the customer. The Kilt Jacket features; stag horn buttons, gauntlet cuffs, and flat shoulder epaulets preserving the traditional look.
Product Specifications
100% Tweed Wool used.
Rust-Free Hardware.
Elegant Stitching & Handling.
Stag Horn Buttons.
Gauntlet Cuffs.
Flat Shoulder Epaulette.
Stylish Tweed Argyll Kilt Jacket with Vest Design
Now Let's talk about the design of Stylish Tweed Argyll Jacket with Vest. Without taking much of your time let's discuss the design.
Front
The front of this Jacket is simple with one central button for fastening. There are two flap pockets on the front – the flap is of zigzag style. Three Stag Horn Buttons are used on each flap. There is also one small pocket on the left of the Jacket.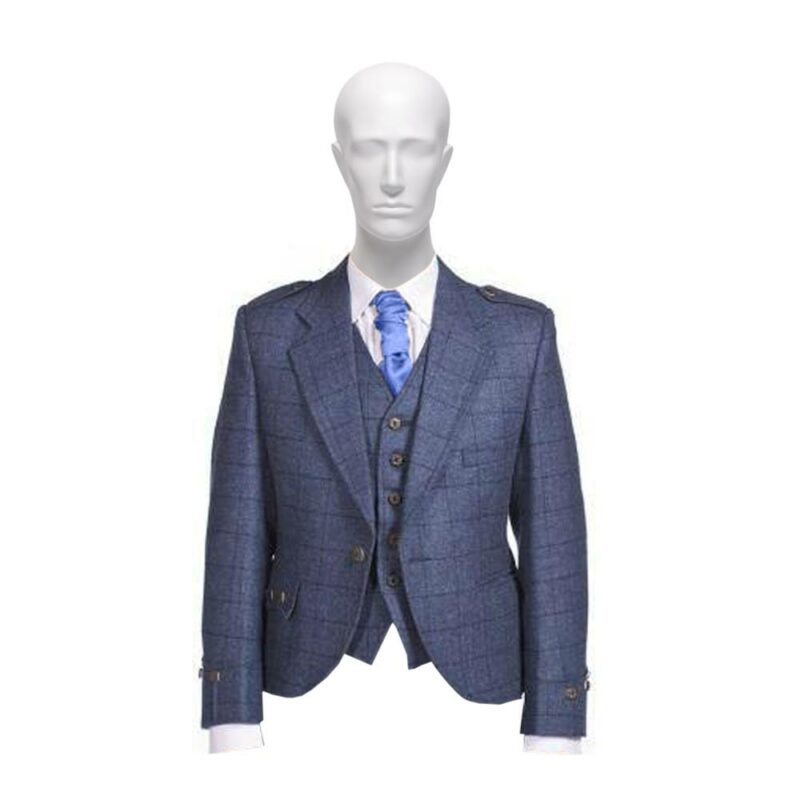 Shoulders & Cuffs
The Shoulders has Shoulder Epaulette just like any Prince Argyle Jacket which is pinned by Stag Horn Button. This Jacket features Gauntlet Cuffs with decorative Stag horn buttons.
Back
The Back of the Jacket is simple without much decoration and stuff. There are two cuts on the Back which offer comfortable wearing of the jacket.