This is new stylish Leather Kilt comes up with leather sporran. This leather kilt is a classically styled kilt which has the same structure as the original kilts and the same length which stops just across the knee (although as per customer's choice). It is available in various colors.
It has a fantastic and elegant look. To put the leather kilt on is easy as it is a wrap around that fastens with two studs and two buckles on one side.The kilt features dual colors; ideally black front apron and red sides and back – changeable on the customer's choice!
Features
Leather Kilt with Sporran
Fantastic and elegant look
Golden Hooks
Two Cargo pockets on the sides
Made up of 100% Genuine Leather
Leather Kilt with Sporran Design
Now lets talk about the design of this Leather Kilt. I have talked about every aspect of this Kilt in great details so lets head to the designs.
Front
The front of this Leather kilt is simple although there is a leather sporran attached on the front with chrome hooks – the sporran is detachable. It features snap closure and features golden buttons.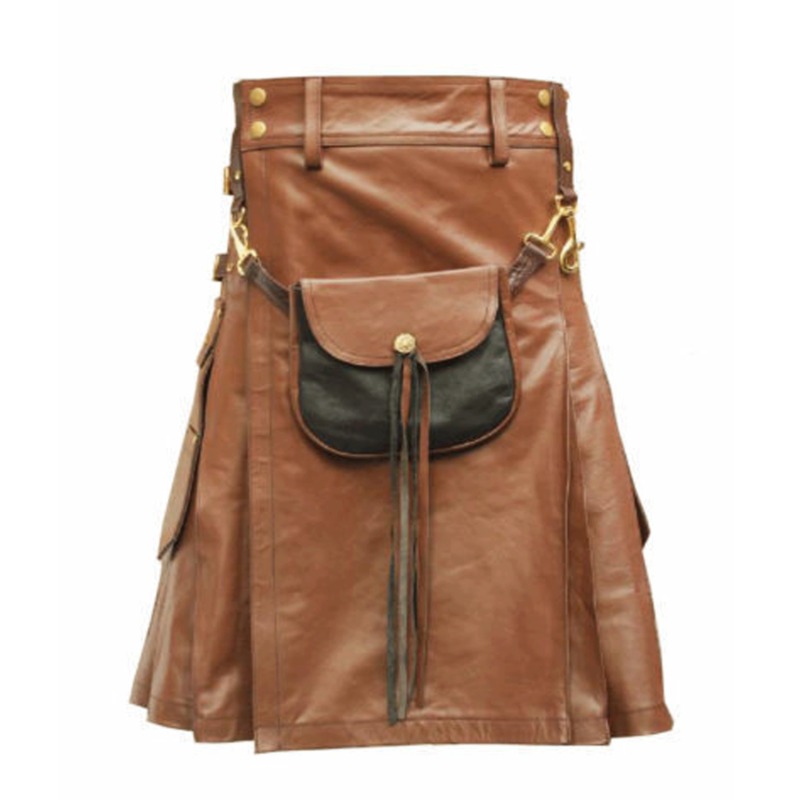 Pleats
Pleats of this kilt are deep sewn which gives the full swing to the wearer. As it is a custom kilt so depth of pleats is adjustable as per the choice of customer.