The Black Utility Gladiator Viking Leather Kilt comes up with Leather and cotton bottom which looks amazing. The Front apron of this kilt is made of leather. There is one leather flap pocket on the front side of the kilt. There is also one belt attached diagonal to this kilt which is added for better adjustment.
There is also a chrome chain attached diagonally for decoration. Behind the back of the kilt, there is a zipper with a small pocket. One leather flap pocket has also been added to the back of this kilt followed by a chrome chain. The pleats of the kilts are made up of Cotton fabrics which helps in creating the pleats.
Design
Now lets talk about the design of this Black Utility Gladiator Viking leather kilt so lets head to the design of this kilt.
Front
The Front apron of this kilt is made up of Black leather. On front there is a chrome chain and a belt on both diagonal of the Kilt which looks really amazing and symbolizes the Gladiator style. The belt has shinny Chrome buckle which is given for better adjustment.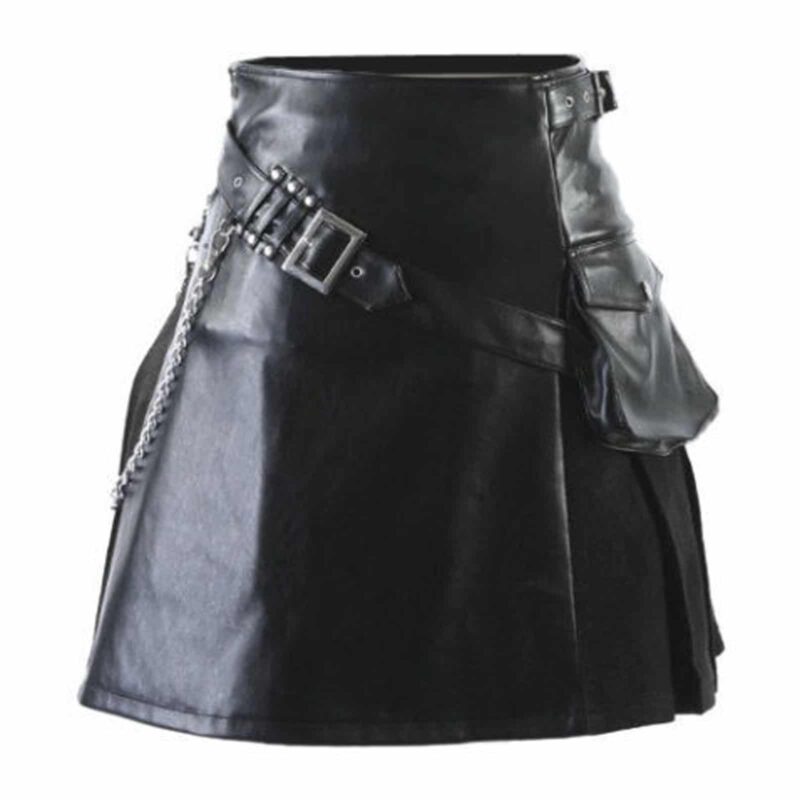 Pockets
There are two Leather flap pockets, one on the side and one on the back side of the kilt. The pockets are big enough to store your stuffs and makes it a perfect kilt to wear in daily routine.
Pleats
The pleats of this Kilt are made from Cotton fabric which makes it a twin fabric Kilt using both leather and Cotton fabrics. The pleats are sewn deep inside for full swing. Above the pleats there is also a zipper for storing tiny stuffs.