Denim Kilt is made up of heavy duty denim fabrics which is specifically designed for rough and tough jobs. This is actually a utility kilt made up of denim fabrics which comes up with two flap pockets. Each pocket is decorated with silver straps and chrome buckles.
The exciting thing about that you can actually have dual looks; one is with apron and the other is without apron. You can wear it without apron and enjoy the entire new look.
The belt holders are reasonably big enough and each belt holder has chrome hooks which can be used to hook the chain. Pleats are sewn deep inside which gives the full swing to the wearer. Overall, it is a perfect and really comfortable kilt to wear.
Features
Heavy Duty Denim Fabrics
Flap pockets
Silver straps for decoration
Chrome chain hooked with the kilt
Pleats deep sewn
Double stitching
Rust-free hardware.
Denim Kilt with Silver Straps Design

Now let's talk about the design of this Black denim kilt with cargo pockets. So without taking your much time let me take you to the features of this kilt.
Front
The front of this kilt is simple apron of selected color. There is also a silver strap given for better look and style. There are also two silver strap on the side for better adjustment.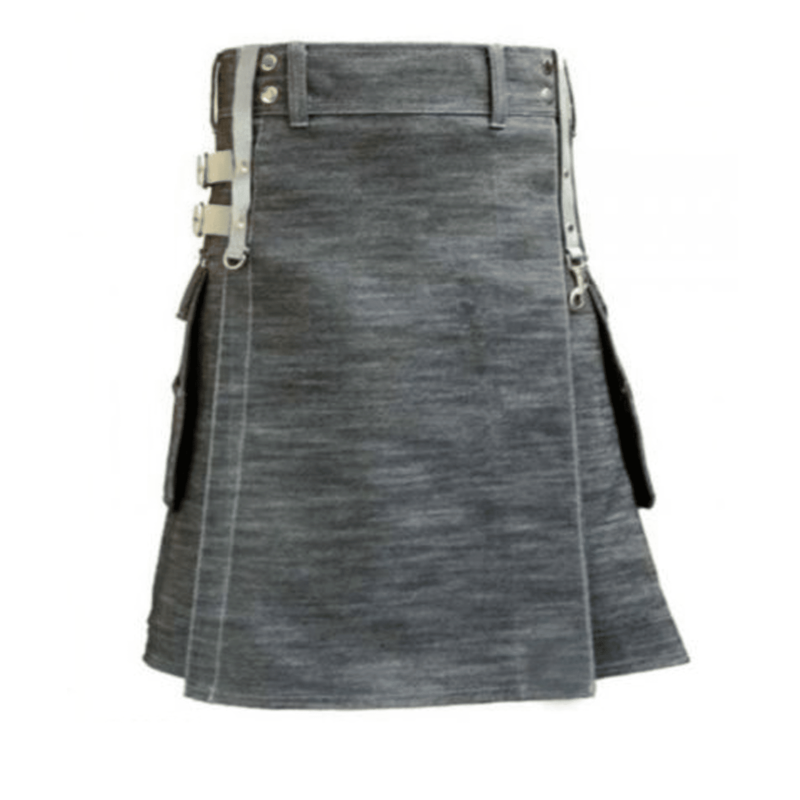 Pockets
There are two flap pockets given on the sides of the kilt. Each pocket is reasonably big and carries enough space to hold enough material. Each pocket is designed with amazingly. Each pocket has strap and buckle which looks really amazing.
Pleats
Pleats are sewn deep inside for full swing and comfortable wearing. These pleats add to the beauty of this kilt and gives it really amazing and stylish look.