Retro Style Padded Black Leather Jacket is a simple leather jacket made up of 100% genuine Sheep leather (cowhide leather or Buffalo on demand). This jacket features snap closure for collars and zipper fastening like any traditional biker jacket. The jacket is amazing padded on the shoulders and sleeves which looks really amazing.
On the right side of the jacket, there is a zipper closure jacket for storing your stuffs.On the sides, there are two side pockets with zipper closure. On the cuffs, there are zipper closure for better adjustment. There is also underarm perforation for additional ventilation. On the back side of the jacket, there is amazing piping on the jacket for further decoration.
There is a pricing difference with increasing size as for 2XL there would be additional charge for $15, for 3XL there would be an additional charge for $30, and for 4XL there would be an additional charge for $45.
Features
100% Original Sheep Leather (Cow Hide and Buffalo on choice)
Zipper Fastening
3 Zipper closure pockets
Snap closure for collar
Small Zipper Key pocket on the sleeve
Design
Now lets talk about the design of this jacket in great detail so that you can know much more about this jacket. Lets head to the designing of this jacket;
Front
The front of this jacket is amazingly designed and is the exact Cafe Style jacket lovers. It features zipper closure followed simple collar styling. All the zippers used on the jackets are high quality YKK zips. There are three zipper pockets on the front of the jacket; one breast pocket and 2 side pockets
Stylish piping and stitching is done on this jacket for styling. The helm of the jacket is rounded without much decoration or styling. On the shoulder, army style straps are used which goes perfect with the overall style of the jacket.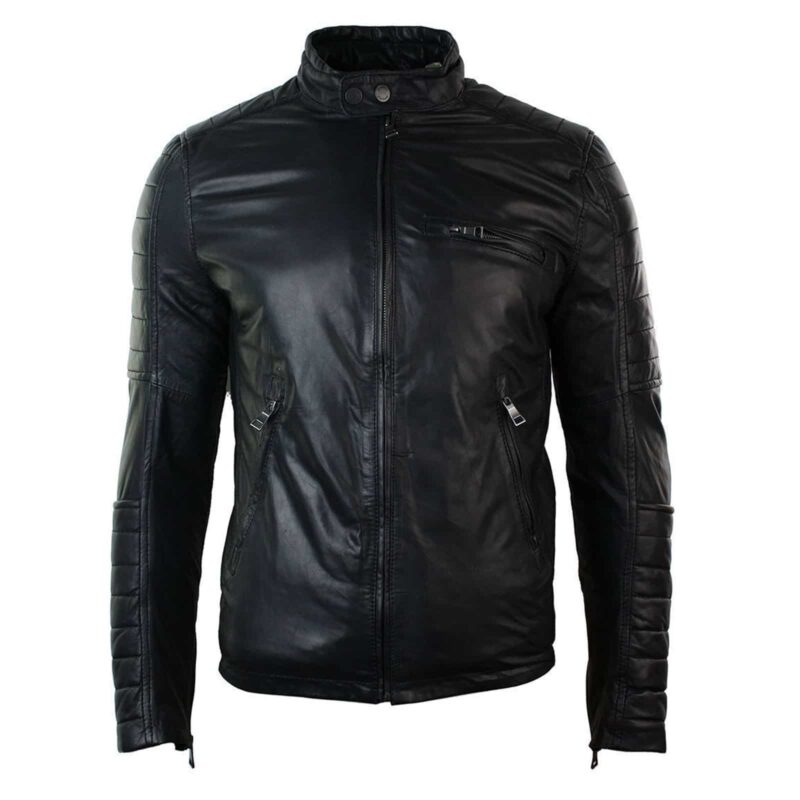 Collars, Sleeves, and Back
Now lets talk about the other parts of this jacket, it features small collars with snap closure. It features long sleeves and each sleeve has stylish padding and stitching. On the right sleeve, there is a small key pocket with zipper closure The cuffs has zipper for better fitting and adjustment along with an stylish cut. There is underarm perforation for additional ventilation and comfortable wearing. On the back of the jacket, there is an amazingly stitched lining.